Grand in design, this magnificent vessel offers a host of delightful diversions as you see the world
Emerald Princess®
in Hawaii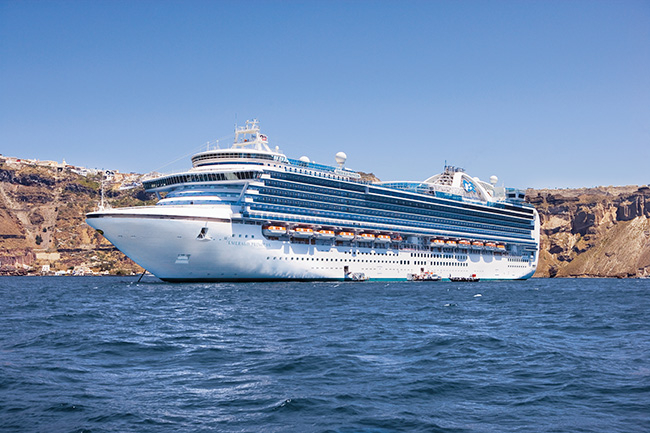 (Photo: Emerald Princess® in waters off the coast)
Catch the aloha spirit the moment you come aboard a Hawaii cruise
Ship: Emerald Princess
Sailing date: Saturday April 14th, 2020
Duration: 15-Days Hawaii
Departing from: Los Angeles
SPECIAL OFFER: Shipboard Credit $60 per stateroom
More Hawaiian Islands, More Value
Why settle for seeing just one island on a Hawaii resort-based vacation when you can cruise in style and explore FOUR island jewels? Sailing with Princess is a far better vacation value, and you'll visit the top-rated Hawaiian islands — Maui, Oahu, Kauai and the Big Island — without all the time-consuming hassle of island hopping by plane. From enriching Discovery and Animal Planet shore excursions to our immersive "Aloha Spirit" program onboard, you'll discover each island's unique charm — and fall in love with Hawaii's enchanting beauty.
(Photo: Hawaii Island as seen from the water)
Our 15-day Hawaiian cruises offer an intoxicating mix of island adventure and carefree cruising. You'll venture to four dazzling islands — including a full day and late evening in Honolulu to see the sights and experience its famed nightlife. And there's so much to do while you're at sea, like enjoying live entertainment, world-class cuisine, island-inspired activities and endless ocean views — plus it's all included in your cruise fare! Discover why the Travel Channel named us "Best Cruises to see Hawaii."
(Photo: Hawaiian man blowing into a conch shell)
Aloha Spirit
Step on to a Princess Hawaiian cruise and you'll be immersed in the color, culture, and flavors of Hawaii through our unique "Aloha Spirit" onboard program. Join in on our colorful King Kamehameha Festival, learn to play the ukulele, dance the Hula, weave a flower lei, see folkloric performances, indulge in tantalizing island fare and so much more. We make cruising to Hawaii just as fun as being there!
Hawaii is Closer Than You Think
With convenient roundtrip cruise departures from Los Angeles, San Francisco or Vancouver, it's easy to cruise to Hawaii in style and avoid the hassle of a long, boring plane flight to paradise. And if you're on the West Coast, it's even easier to sail — local residents can drive in and sail on the same day!
Want to explore the West Coast? You can also take advantage of Princess transportation, hotel, and sightseeing packages to discover these cosmopolitan cities.
Your culinary journey at sea reaches new heights with an abundance of fresh restaurant choices and dining options aboard Emerald Princess®.
From revitalized top deck venues like:
Salty Dog Grill
Slice Pizzeria
and Coffee & Cones
To brand new casual restaurants:
Steamers Seafood
and Planks BBQ
There's something for every palate. Let the kids play, explore, huddle and create at the newly re-imagined Camp Discovery Youth & Teen Centers and unwind at the refreshed Sanctuary, a tranquil haven reserved for adults.
Accommodations
From the moment you step aboard, we want you to feel welcomed and right at home. And with attentive service from a friendly staff that knows what hospitality means, you'll find your Princess® ship truly is your home away from home.
Photos, floor plan diagrams, and amenities represent typical arrangements and may vary by ship and stateroom.
(Photo: Princess® Cruises Emerald Princess balcony stateroom)
Front Row Seat for Beautiful Scenery
This impressive stateroom offers the added indulgence of a balcony and gives you more space than a standard stateroom. Enjoy your own private outdoor space with a table, two chairs, and a relaxing view of the inspiring scenery surrounding you, whether a beautiful sunset over the ocean or a new city to explore. It's also perfect to enjoy cocktails before dinner or a leisurely breakfast.
Included Dining
Indulge your appetite whenever you wish on board Princess®. Every hour, our chefs are busy baking, grilling and sautéing great-tasting fare from scratch. Princess offers unparalleled inclusive dining options throughout the ship with a wide range of culinary delights to suit any palate, from endless buffet choice to gourmet pizza, frosty treats, decadent desserts and much more.1
(Photo: overview of dining options available on Emerald Princess®)
Specialty Dining
Dining on board a Princess® cruise ship is a joyful celebration and our specialty restaurants always deliver an extraordinary experience. They are among the best at sea – or anywhere. We serve dishes made with the freshest ingredients, and our menus reflect regional flavors from around the world. You'll find our specialty restaurants are the perfect place to celebrate any occasion.1
Activities
On every Princess ship, you'll find so many ways to play, day or night. Explore The Shops of Princess, celebrate cultures at our Festivals of the World or learn a new talent — our onboard activities will keep you engaged every moment of your cruise vacation.1
(Photo:Princess Cruises Emerald Princess® activity options)
Entertainment
Original musicals, dazzling magic shows, feature films, top comedians and nightclubs that get your feet movin' and groovin'. There's something happening around every corner; luckily, you have a whole cruise of days and nights to experience it all.1
(Photo: Princess Cruises Emerald Princess® entertainment options)
Kids, Teens & Family
From family-friendly stateroom options to enriching youth and family programs, quality time is time well spent. Onboard activities spark curiosity and fuel creativity while excursions ashore engage and inspire!
(Photo: Princess Cruises Emerald Princess® kids and teens and family)
Explore the Treehouse
Even the littlest guests will delight in this whimsical, forest-themed world that inspires playtime and invites exploration. Kids, ages 3 to 7, can dance, enjoy pajama movie nights, create art projects like Animal Planet™ puppets and masks or compete in a Lego® boat-building contest.
New programs will roll out together fleetwide, while new center designs (The Treehouse, The Lodge & The Beach House), launch individually through 2020.
TAXES, FEES & PORT EXPENSES: "Taxes, Fees & Port Expenses," as used by us, may include any and all fees, charges, tolls and taxes imposed on us by governmental or quasi-government authorities, as well as third party fees and charges arising from a vessel's presence in a harbor or port. Taxes, Fees & Port Expenses may include U.S. Customs fees, head taxes, Panama Canal tolls, dockage fees, wharfage fees, inspection fees, pilotage, air taxes, hotel or VAT taxes incurred as part of a land tour, immigration and naturalization fees, and Internal Revenue Service fees, as well as fees for navigation, berthing, stevedoring, baggage handling/storage and security services. Taxes, Fees & Port Expenses may be assessed per passenger, per berth, per ton or per vessel. Assessments calculated on a per ton or per vessel basis will be spread over the number of passengers on the Ship. Taxes, Fees & Port Expenses are subject to change and Princess reserves the right to collect any increases in effect at the time of sailing even if the fare has already been paid in full.
CRUISE CONDITIONS AND IMPORTANT INFORMATION: Information concerning Reservation, Tours, Princess Vacation Protection, Princess Platinum Vacation Protection and Princess Vacation Protection - Medical Only option, Cancellation fees, Travel and Health Documentations, and Princess eZAir is described in the brochure applicable to this group request and is incorporated herein by reference. All provisions of the Passage Contract will apply to all bookings made under this program.
Itinerary
Day 1: 15-Days Hawaiian Islands
DAY 2 Tue, Apr 14 Depart Los Angeles, California 16:00
DAY 3 Wed, Apr 15 At Sea
DAY 4 Thu, Apr 16 At Sea
DAY 5 Fri, Apr 17 At Sea
DAY 6 Sat, Apr 18 At Sea
DAY 7 Sun, Apr 19 Arrive 07:00 Honolulu, Hawaii Depart 23:00
DAY 8 Mon, Apr 20 Arrive 08:00 Kauai (Nawiliwili), Hawaii Depart 17:00
DAY 9 Tue, Apr 21 Arrive 07:00 Maui (Lahaina), Hawaii (Tender Required), (Wheelchair Access Limited) Depart 18:00
DAY 10 Wed, Apr 22 Arrive 07:00 Hilo, Hawaii Depart 17:00
DAY 11 Thu, Apr 23 At Sea
DAY 12 Fri, Apr 24 At Sea
DAY 13 Sat, Apr 25 At Sea
DAY 14 Sun, Apr 26 At Sea
DAY 15 Mon, Apr 27 At Sea
DAY 16 Tue, Apr 28 Arrive 08:00 Ensenada, Mexico Depart 17:00
DAY 17 Wed, Apr 29 Arrive 06:15 Los Angeles, California